Blog
Stay updated with our new news!
Libyan Spider obtains the international ISO 27001 and ISO 27017 certifications for Information Security.
Libyan Spider obtains the international ISO 27001 and ISO 27017 certifications.
Tripoli, Libya – 11 August 2022 – Libyan Spider, a leading cloud service provider and web hosting company in Libya, became accredited with the worldwide ISO 27001 and 27017 Certifications, the leading-edge internationally recognized standards developed exclusively for Information Security Management Systems (ISMS) and security for cloud services, respectively.
This prestigious recognition reflects the company's commitment to providing and maintaining all the necessary resources and security controls required to protect the confidentiality, integrity, and availability of its information. Completed in cooperation with SecuraStar, a niche information security consulting firm specializing in ISO 27001.
The ISO 27001 security standard recognition assures customers, partners, and shareholders that their informational assets and data are relentlessly protected. The ISO 27017 represents the international security standard for cloud service providers to make a safer and secure cloud-based environment and drastically reduce the risk of security problems.
Libyan Spider initiated the certification process to address the needs of large enterprise customers, governmental entities, and organizations and enable them to confidently utilize our cloud services for their work needs, as security and quality of service remain amongst Libyan Spider's top uncompromised priorities.
The International Organization for Standardization (ISO) 27001 Certification requires employing a methodical approach to managing sensitive information and ensuring data security, comprising ten exhaustive control categories: information security policy, security organization, personnel security, access controls, physical security, asset classification controls, continuity planning, system deployment, communication management, and compliance.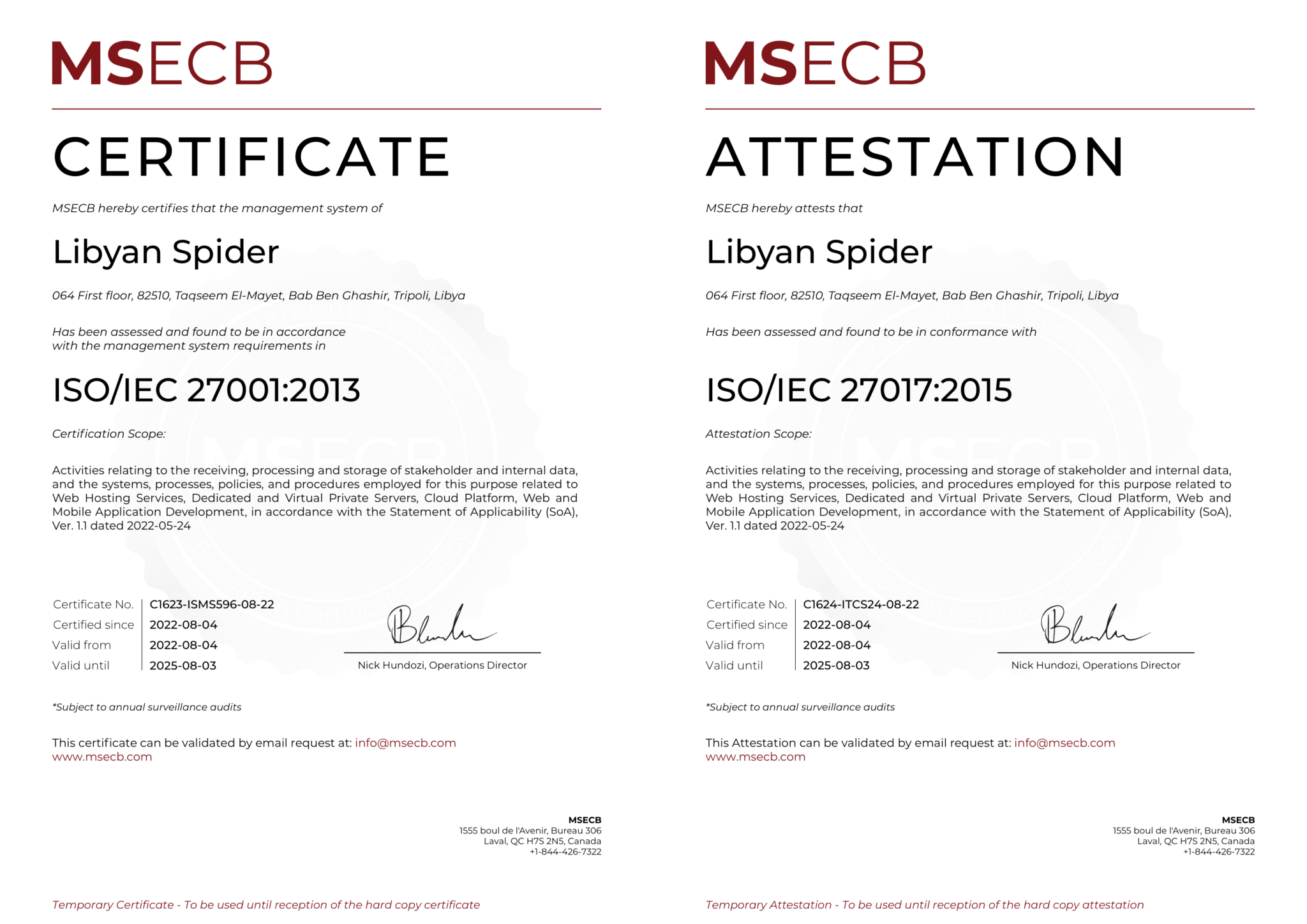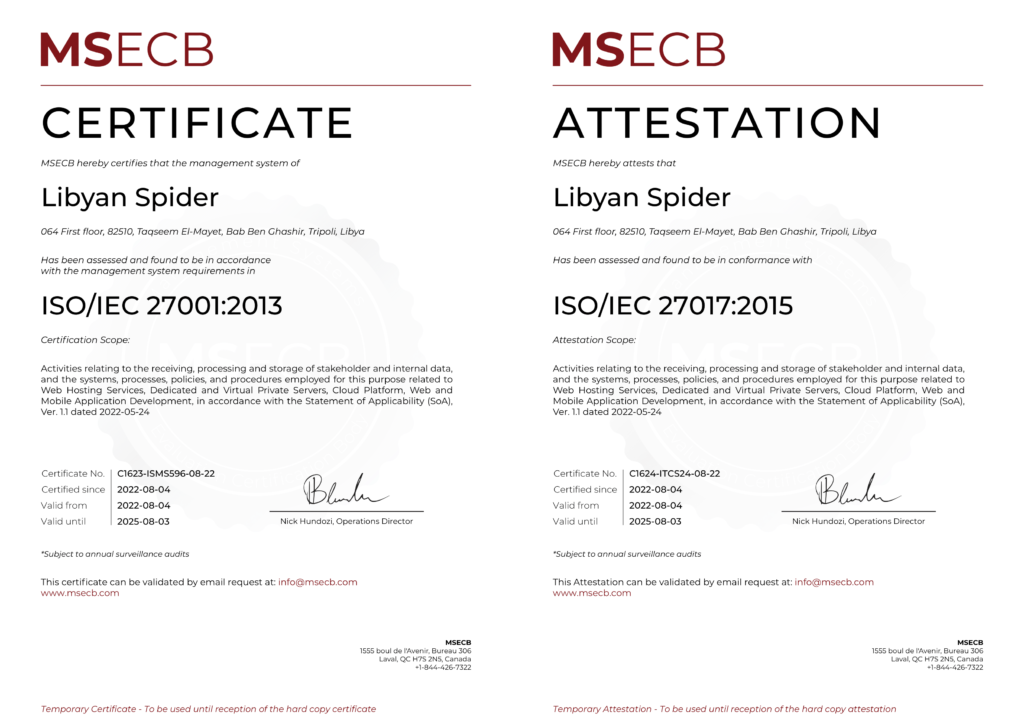 The international standard ISO 27017 provides additional cloud-specific implementation guidance and additional controls to address cloud-specific information security threats and risks.
Libyan Spider has been persistently working to accomplish the ISO 27001 – 27017 for a period of time now and, during this pursuit, has established a competent team of core employees to ensure the pinnacles of information security are developed and maintained to better manage the certification. Libyan Spider was evaluated for the success of its execution of information security procedures and policies to guard the confidential information and intellectual property of both itself and its customers. Periodic internal audits and surveillance audits by external bodies will ensure that the highest standards are continuously maintained.
This accreditation represents a huge milestone for Libyan Spider, as we move towards achieving international standards compliance for solidifying and maintaining our customers' trust in Libyan Spider's IT infrastructure and security capabilities, as well as expanding our opportunities in global markets where ISO standards guarantee uniformity across national and regional boundaries.
Libyan Spider utilized ISO Manager Software throughout the certification process, an all-in-one digital command center explicitly designed to manage ISO 27001 and all applicable GRC compliance requirements (legal, regulatory, and contractual).
About Libyan Spider
Libyan Spider is Libya's leading provider of cloud services and technical solutions. We help organizations of all sizes to successfully do business online while providing full support, protection, and comprehensive IT services.
Since 2002 we have offered our clients state-of-the-art domain registration, web development, design, and hosting services. Today, we are the #1 registrar for the country-code domain name for Libya (.ly), and one of the local leaders in cloud transformation.
Our head office is located in Tripoli, and we are rapidly expanding into all major cities in Libya, and our web solutions can be tailored for both individuals and small to large businesses, with +25,000 customers, +18 partnerships, +70 local Distributors, and +150,000 users around the world.
Whether you work in government, private sector, education, or finance, we have a solution to fit your growing needs.
For more information:
Website: www.libyanspider.com
Address: 064 First floor, Taqseem El-Mayet
Bab Ben Ghashir, 82510, Tripoli, Libya
Phone: +218 21 3632323
Email address: media@ls.ly